Rocking my sick voice, I tell you about my experience signing up for Clear and when I think it's a great deal. Plus, we found a great way to use your Amex airline reimbursement perk(that is, if you chose the right airline) via @monkeymiles blog. We also chat about the final air-related events leading up to the end of the US government shutdown. Then, I drone on about my trip to Florida with a great booze/coffee recommendation and a beach tip. Listen now!: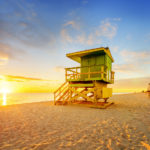 Show Links
Great use of your Amex Platinum Airline Credit. (h/t: Monkey Miles)
The final travel-related bad news about the Government shutdown was…
About that United flight to Goose Bay, Canada.
Mentioned on Modhop
Instead of jamming onto the beach in front of your Ft. Lauderdale resort, truck down a bit to Hollywood beach:
Looking for a place to drink whiskey, coffee or fancy euro-gin in Fort Lauderdale? My friend @itsDeenaLang liked Stache Drinking Den so much she got married there.
Just Loud performed at the wedding… Here's the single, let me know what you think.