Way back in December (2012) our friend and resident Boarding Area "AAxpert" at the AAdvantageGeek blog filled us in on American Airlines new bundled "Choce Essential" options.  The first competitor to schedule meetings between the ancillary revenue and web development teams to come up with a similar offering is Delta. By combining Delta priority boarding with other services, a few new options are added to your online reservation experience.
Delta Airlines hometown newspaper, The Atlanta Journal-Constitiution reports that the airline has added 2 new "bundled" options. We dug in a little to see what value these new packages are serving up.  Here's how Delta priority boarding and "Lift" upgrades look in our sample itinerary between New York LaGuardia (LGA) and Minneapolis/St. Paul (MSP) in mid-February.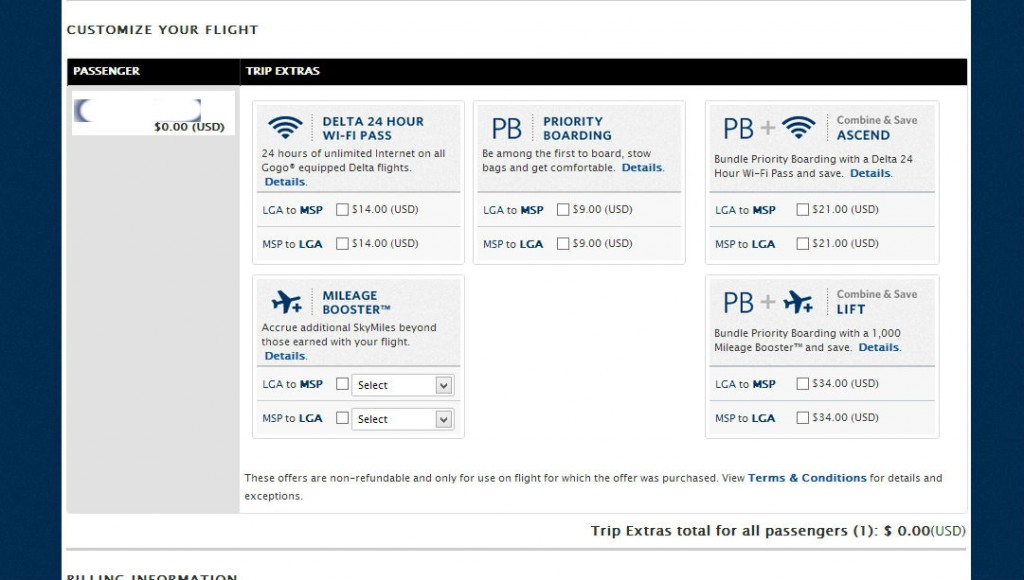 Doing the math, the Priority Boarding + LIFT package (lower right), which combines Priority Boarding and 'Mileage Booster' saves us $4 over buying each separately. Or you just could skip the ill-advised milage "boost" and go with early boarding and 24 hour wifi instead. That option will save you $2 when compared to buying separately. (Just be sure your connecting flight(s) are wi-fi equipped.)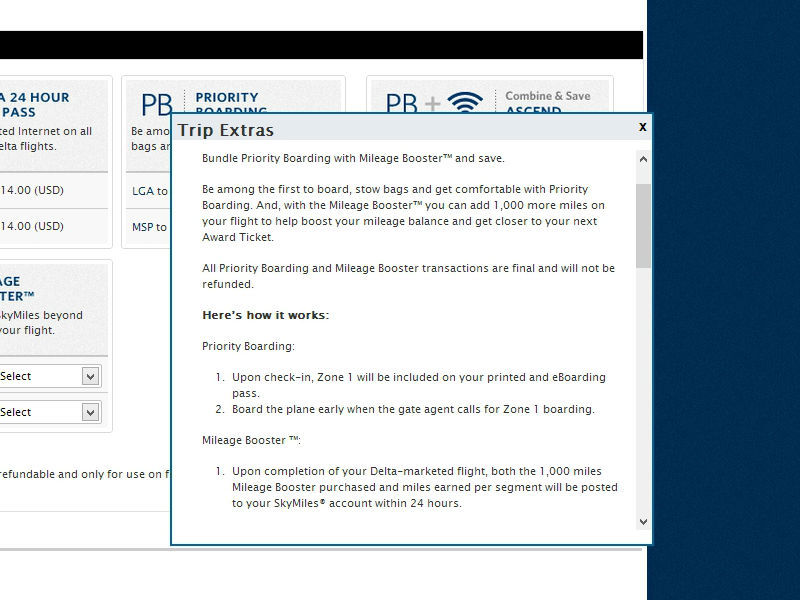 One important thing to remember is that if you've already upgraded to an Economy Comfort seat or are in First/Business class, you've already got priority boarding so there's no need to double-up.
Also, don't be fooled by the "stow bags" in the "Trip Extras" description. That doesn't mean added baggage allowance, just that you get first shot at overhead bins because you're one of the first to board.
I'm the lowest common denominator when it comes to mileage value within the Boarding Area ranks, but this price here for 1000 SkyMiles is a bit much. I invite my BA friends to weigh in if you think this is somehow a bargain. (Insert cricket noises).
There are minimal savings to be had here and maybe a thwarted headache on travel-day but the only bundle I see with any kind of  real value might be in the "Ascend" package that offers early boarding and wi-fi. Or just the priority boarding alone.
What do you think? Would you drop a few extra bucks at booking to save a few back? Are these options worth anything to you? Let us know in the comments.