It's okay to zone out at work. Others might prefer staring at slo-mo videos of glistening waterfalls or windy pastures of Spring but not you. You like staring at airplanes and airport-stuff, so there's Airport Zen. See planes, nap cubes and more from MUC…
The shopping mall-like areas are largely separated from the gate areas at Munich Airport (MUC). Finding a spot to get away from crowds wasn't entirely difficult on this long Saturday connection.
Food, drink and shopping are mainly found in the "Plaza Area". As you get to more remote gate areas, you'll see fewer retail outlets and loose your shot at scarfing down something other than rubbery pretzels or gummy worms from a gift kiosk. It's best to grab what you can before heading off to your gate on the north or south piers of the terminal.
If you're a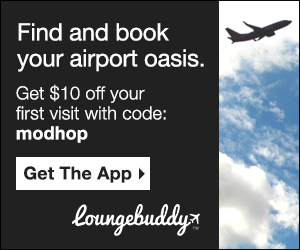 member, you'll have to shuffle to terminal 1 for access to both the Atlantic and Europa Lounges. Both lounges also have per-visit rates Likely the most notable clubs here are by Lufthansa who offer Senator & Business Class lounges in both the G and H gate areas of terminal 2. Here's our video review of their Business Lounge near the G gates:
Another option is the public "lounge" that (although not a proper club with snacks, booze and refreshments) offers a place for anyone without membership or money to plug in and relax. Within the same space are "Nap Cubes", enclosed cubicle-sized rooms to sleep in for an hourly fee. Here's a quick look at the from our YouTube Channel.
Despite recent construction, Munich is regularly praised by critics and travellers as a great place to connect largely because of it's amenities for travelers of all types and good connections. Aviation consultant organization Skytrax has handed the airport several "Best Airport" awards for Central Europe.
Have a favorite spot at MUC? Let us know in the comments: