Video | Hotel Room Mate Luca Florence – Deluxe Room
Hotel Name: Room Mate Luca


Location: Florence, Italy
The Room:  This Deluxe Room at Hotel Room Mate Luca Florence is one that is benefiting greatly from a recent makeover, but the rehab crew might have done better with a different brush. The high ceilings, windows and bones of this room give the space a classic feel that might have worked well with the updated design if it weren't so overdone (as it is throughout the hotel). These less than subtle updates are here to reflect the bold new style of the hip, seemingly youth-directed Room Mate hotel chain but push the limits of how much the eyes can handle without causing a migrane and are no help in making this room comfortable.
Linens and bedding aren't fitting of a room with "Deluxe" in it. This, with having to keep with the windows open thanks to (as the hotel staff tells us) a local ordinance that won't allow the hotel to use air conditioning until the hottest Summer months, made sleep difficult.  The noise from outside was minimal in this room compared to the traffic you'll hear if your room looks over the street, but conversations from an office in the building next to the hotel could be heard like they were in the next room. Bring earplugs and maybe a soft sheet to shield yourself from a hostel-like thread count.
The large, comfortable sofa is a nice perk for this busy (but somehow still a little charming) room. It comes complete with a pull-out bed if you've got kids or are on holiday with cheap friends.
The real upgrade here is space. Your extra money will buy you a few extra square meters of room compared to the more cramped basic room. Here's a look at a less-than-deluxe standard from our YouTube Channel:
Washroom: It seems updates to the washroom weren't needed when the hotel made the conversion from the former Hotel Carolus to a Room Mate Hotel. While perfectly operational, it lacks reasonable counter space and it's sea of dull green tile is in stark contrast to the rest of the updated room.
Amenities: The little square orange containers are neat, but what's inside them is decidedly low-end.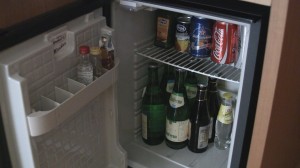 Service: If the hotel has no plans to up it's staffing you may have to wait awhile when you need help at the front desk. Check-in was slow with just one person handling the front desk on our midday arrival arrival but not as slow as when we stopped by looking for dinner recommendations. Once we got to the front of the line, hotel staff was beyond friendly and very helpful. Our guess is that these are staff that had worked at Hotel Carolus so their knowledge of the neighborhood helped us find our way around town and some very good restaurants.
Wi-fi/Connectivity: The paid wi-fi connection was about as good as a cell phone signal in the middle of 1995 Wisconsin (bad).  To be fair, the hallways and lobby were still being updated during our visit so hopefully there are improvements coming.
Overall: This is a simple "stay here if the price is right or can't find anything better" hotel. In our case, both were true. As for upgrading to a Deluxe Room, it's worth it only if you can't deal with the tiny washroom found in the standard room or need a pull-out couch for extra guests. Staff will do their very best to make  your stay at Room Mate Luca a good one, but even Luca him(?)self cant make the room more comfortable, business friendly or less visually jarring.